Best Selling Author & Speaker
Transformational Leadership and Strategy Expert
Catalyzing Transformation to maximize human potential
For the past two decades, Charlene Li has been helping people see the future and thrive with transformation. She couples the ability to look beyond the horizon with pragmatic advice on what actions work today. She helps executives and boards recognize that companies must be transform to compete, not just innovate. 
Charlene's an expert on disruptive transformation, leadership, customer experience, and the future of work. Her perspectives from advising hundreds of companies ranging from Adobe to Southwest Airlines and 14 of the Dow Jones Industrial 30 companies provide insights to support a winning strategy for disruptive growth, and a plan to identify and seize an opportunity no one else has the audacity or confidence to reach for. 
Throughout her career, Charlene has been at the edge of disruption. She worked in newspapers in the early 1990's, helping them navigate the shift from print to online. As a principal analyst at Forrester Research, she covered interactive advertising, search marketing, and the rise of social media. In 2008, Charlene founded Altimeter Group, a disruptive competitor that challenged analyst firm incumbents such as Gartner, Forrester,and IDC. In 2015, Altimeter was acquired by Prophet and continues to operate under its own brand as a fully owned subsidiary.
Charlene is currently the Chief Research Officer at PA Consulting where she leads the company's thought leadership program. She has authored six books, including the New York Times bestseller, Open Leadership, and the critically acclaimed book, Groundswell. Her latest book, The Disruption Mindset, lays out a blueprint for disruption. 
She is frequently quoted in The Wall Street Journal, The New York Times, USAToday, Reuters and The Associated Press and has shared her insights on 60 Minutes, The McNeil NewsHour, ABC News, CNN and CNBC. Charlene has inspired a wide audience as the keynote at conferences such as the World Business Forum, World Economic Forum, and South by Southwest.
Charlene earned an M.B.A. from Harvard Business School and an A.B. degree magna cum laude from Harvard College. She lives in San Francisco near her two adult children. In her spare time she  enjoys taking on seemingly impossible tasks such as training her cat to do tricks. 
Named by Inc Magazine as one of the
Top 50 Leadership Innovators
Big Brothers and Big Sisters of Santa Clara County, 1994-1995
Named one of CRM Magazine's Top Influential Leaders.
Jumpshot, board of directors, 2018-2020
Helping Leaders Thrive with Disruption
For the past two decades, I've had the fortune to be an author and analyst, exploring and explaining the new world and society being created right before our eyes by new technologies. In 2008, right at the start of the recession, I started Altimeter Group, which disrupted the industry analyst world dominated by players like Gartner, Forrester, and IDC.
That's what I do. But what I live and work for is creating the "A-ha Moment". It happens when someone is thinking through a perplexing problem and then comes that moment of recognition and understanding. A light moves across their eyes, followed by a smile. They move from being in a place of confusion, where something is happening to them, to a place of understanding, where they have agency over their situation. Helping leaders take that first step to having a sense of empowerment and optimism, tempered by the knowledge of the journey ahead, is what drives my work.
Experience is what you get when you don't get what you want.
Charlene Li is one of our finest business minds.
Daniel H. Pink
Author of six books, including New York Times bestsellers When and Drive
Charlene Li will help you and your team dance with disruption in this fast-changing world.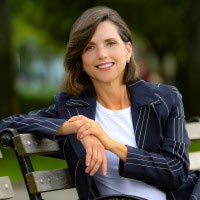 Beth Comstock
Author of Imagine It Forward and former vice chair of GE